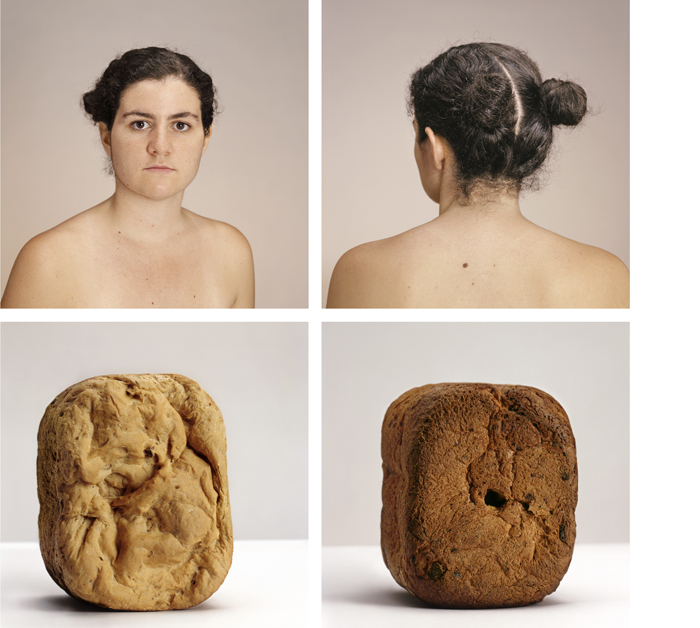 PANIS NOSTRUM
28 images 50x50 cm, cotton paper Hahnemuhle Bright White
Scanned diapositive film 4x5"
2006/07
Panis Nostrum is a relational project designed with the aim to interact with people from different backgrounds in Europe.
It is a photographic documentation: portraits of the bread from four different angles, side by side with the portrait of its creator.
The result is the connection between the author and the product (bread) and its symbolic and cultural value. Next to each series is exposed the recipe and the name of the participant.
Seven portraits of seven different types of bread, made by seven young people coming from different European countries but all living under the same roof in Milan, Italy. The machine mixes the ingredients, and after three hours the bread is ready. 2.5 kg of flour, 500 g of sugar, 4 pinches of salt, walnuts, almonds, muesli and cinnamon... The devotion to craft and the poetic inclination become the manner and the meter to observe diversity, identity and faces... There were many countries of identities, of faces. Some of them seem to be made of bread now. Each loaf of bread is made by the person who kneaded it and who is portrayed during the three hours of bread production. The seven portraits are made methodically. The faces are accompanied with the same light, and settle on the same colour tones. Dough is the same. The looks are the ones that vary.