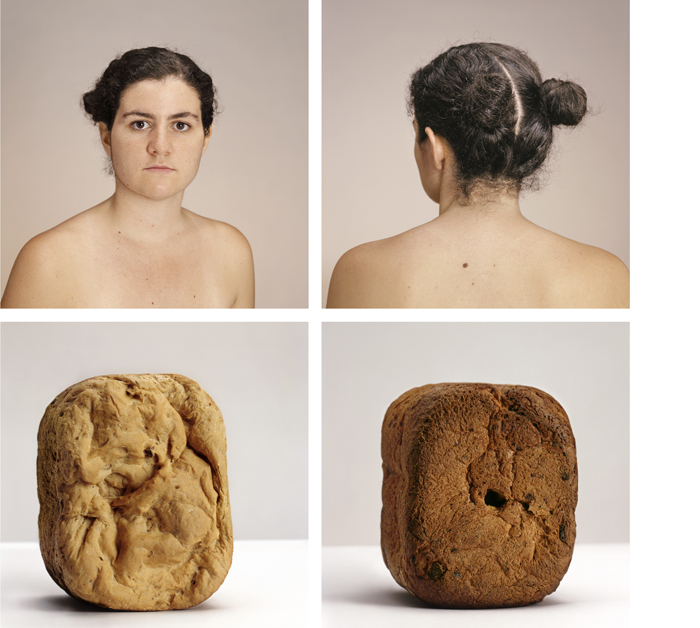 PANIS NOSTRUM
28 images 50x50 cm, cotton paper Hahnemuhle Bright White
scanned diapositive film 4x5"
2006
Panis Nostrum è un progetto relazionale ideato con l'obiettivo di far interagire persone di diverse provenienze culturali europee. Si tratta di una documentazione fotografica: ritratti da quattro angolazioni differenti del pane affiancati al ritratto del suo creatore. Il risultato rappresenta il collegamento fra l'autore e il prodotto (pane) e il suo valore simbolico e culturale. Inoltre accanto ad ogni serie è disposta la ricetta e il nome del partecipante.
Sette ritratti di sette diversi tipi di pane, realizzati da sette ragazzi provenienti da diverse nazioni Europe ma tutti conviventi sotto lo stesso tetto a Milano. La macchina impasta gli ingredienti, e trascorse tre ore il pane è pronto. 2,5 kg di farina, 500 g di zucchero, 4 prese di sale, noci, mandorle, musli, canella... La dedizione artigianale e l'inclinazione poetica diventano modo e metro d'osservazione di diversità , di identità , di volti... Erano tanti paesi di identità , di volti. Alcuni sembrano di pane ora. Ogni pane è eseguito dalla persona che l'ha cucinato, che è ritratta durante le tre ore di lavorazione del pane. Sette ritratti eseguiti con metodicità . La stessa luce accompagna i volti, e i colori si accordano sugli stessi toni. L'impasto è il medesimo. Variano gli sguardi.
Panis Nostrum is a relational project designed with the aim to interact with people from different backgrounds in Europe. It is a photographic documentation: portraits of the bread from four different angles, side by side with the portrait of its creator. The result is the connection between the author and the product (bread) and its symbolic and cultural value. Next to each series is exposed the recipe and the name of the participant.
Seven portraits of seven different types of bread, made by seven young people coming from different European countries but all living under the same roof in Milan, Italy. The machine mixes the ingredients, and after three hours the bread is ready. 2.5 kg of flour, 500 g of sugar, 4 pinches of salt, walnuts, almonds, muesli and cinnamon... The devotion to craft and the poetic inclination become the manner and the meter to observe diversity, identity and faces... There were many countries of identities, of faces. Some of them seem to be made of bread now. Each loaf of bread is made by the person who kneaded it and who is portrayed during the three hours of bread production. The seven portraits are made methodically. The faces are accompanied with the same light, and settle on the same colour tones. Dough is the same. The looks are the ones that vary.