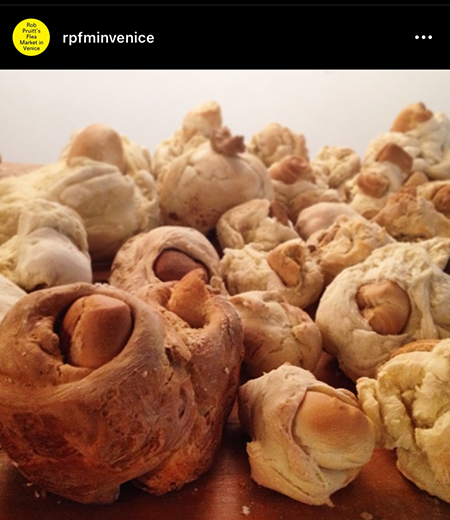 ROB PRUITT'S FLEA MARKET IN VENICE
Site-specific action
Venice, during the 56° Venice Art Biennale 2015
A+A Gallery San Marco, Venice (IT)
2015
The project was initially inspired by the work of Daniel Spoerri (Bread dough Objects). During the days of the inauguration of the Venice Biennale, I collected bread in the various restaurants, bars and shops that would otherwise have been thrown away. The remains of the bread were wrapped in new bread dough to create sculptures, baked in place in the Gallery with the bread-making machine, displayed and sold for a symbolic price.
The project was organized by the students of the "22nd Course in Curatorial Practices" directed by Aurora Fonda and Sandro Pignotti, curated by Tomaso Speretta. The collective exhibition took place at the AplusA gallery in Venice, during the press preview days of the 56° Venice Biennale.


Artists:
DANIEL EATOCK, ANDREW ROSS, BRENT OWENS, BRIDA, CECILE NOGUES, CORINNE MAZZOLI, ASSOCIAZIONE FONDAZIONE MALUTTA, SARA BONAVENTURA, SERENA VESTRUCCI E FRANCESCO MALUTA, JAMES OSTRER, MATTEO NASINI, THOMAS BULLOCK, GIUSEPPE STAMPONE, RÖMER + RÖMER, ILEANA RUGGERI, TANKBOYS, SPELA VOLCIC, PHOEBE COLLINGS-JAMES, WAYNE CHISNALL, THE COOL COUPLE, ZOE BEDEAUX, RAINER GANAHL, LAURINA PAPERINA.